The most popular free tours in Prague
We are back with our daily free walking tours
Join us for the best-rated free tour of Prague in English and Spanish
Free Tour Prague in English
Free Tour Prague in Spanish
Frequently Asked Questions
Free tour is a walking tour without a fixed price. It is up to you to decide how much you enjoyed the experience and how much you wish to remunerate the guide at the end of the walk. Apart from that, a free walking tour is no different than a standard walking tour in Prague. Except that it's more fun
We have different meeting points for English tours and different meeting points for Spanish tours. All of them are in the historical center. Please check the description of a particular tour to see the details. After making a reservation, we will send you a booking confirmation with a map and photo of the place where we meet. Please remember not to come to the meeting point without making a reservation.  
Yes, normally we don't cancel our tours due to bad weather. Of course, safety always goes first and the tour can be cancelled if the weather conditions are extremely bad, but it happens very rarely.
Our free tours in English last around 2.5 hours, the Spanish free tours usually last around 3 hours. The exact duration depends on the particular group, though. 
The maximum number of people who can book a free tour in Prague is 6. Bigger groups should order a private tour or contact us to prepay for the tour in advance.
After filling the booking form, you will receive an email confirmation with a photo of the meeting point. When you get to the right place, look for a tour guide with a big umbrella – we have green umbrellas for English tours and purple umbrellas for Spanish tours.
Yes, Prague is an extremely popular city and the number of spots on each tour is limited. Reservation helps us keep our groups smaller, which improves the quality of the experience.
We had a pleasure to explore the less touristy authentic Prague district Zizkov. The
guide (also the owner) Michal was very knowledgeable and nice. He was
accompanied by his fellow guide Iva who also shared some interesting facts and advice on local life and how to feel the Prague vibe at its best. The Zizkov tour is a
great continuation for those who saw the main attractions and want to dig deeper.
We highly recommend the tour and the company.

We were attending tour with Krzysztof. It was great: to listen about interesting facts
and legends, and to walk together in so international group (rather quite unique
experience). Thank you!

Amanda took us on a tour through New Town, which is now offered weekly as it´s a
new tour. She took us in about 2,5 hours on a walk by the nicest places. She speaks English fluently and has a great knowledge of the history of Prague. Would definitely recommend!

I took part in both tours and I was very lucky to have Amanda as our tour guide in
both tours. She is knowledgeable, humorous and really passionate about what she is doing and I really loved those walking tours with her. Both tours cover all you need to know about Prague in a concise and fun way. Highly recommended!

Tuesday and Wednesday my friend and I had a guided tour with Chris and Amanda. Both tours were fun, clear and interesting! Thank you!
Important: We have GREEN umbrellas for English tours and PURPLE umbrellas for Spanish tours!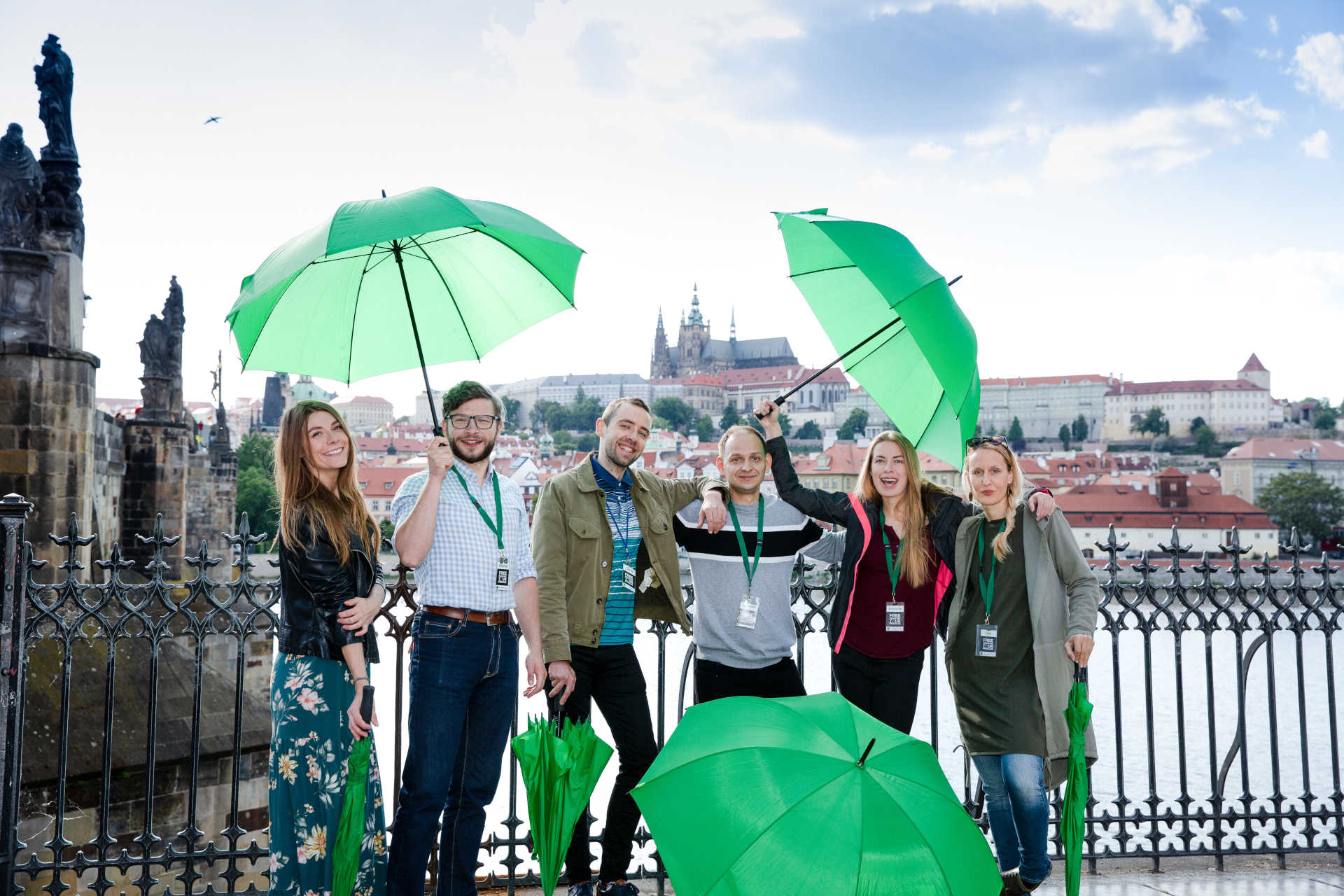 In collaboration with: