The most popular free tours in Prague
We are back with our daily free walking tours 
Join us for the best-rated free tour of Prague in English and Spanish
Free Tour Prague in English
Free Tour Prague in Spanish
Frequently Asked Questions
Free tour is a walking tour without a fixed price. It is up to you to decide how much you enjoyed the experience and how much you wish to remunerate the guide at the end of the walk. Apart from that, a free walking tour is no different than a standard walking tour in Prague. Except that it's more fun
We have different meeting points for English tours and different meeting points for Spanish tours. All of them are in the historical center. Please check the description of a particular tour to see the details. After making a reservation, we will send you a booking confirmation with a map and photo of the place where we meet. Please remember not to come to the meeting point without making a reservation.  
Yes, normally we don't cancel our tours due to bad weather. Of course, safety always goes first and the tour can be cancelled if the weather conditions are extremely bad, but it happens very rarely.
Our free tours in English last around 2.5 hours, the Spanish free tours usually last around 3 hours. The exact duration depends on the particular group, though. 
The maximum number of people who can book a free tour in Prague is 6. Bigger groups should order a private tour or contact us to prepay for the tour in advance.
After filling the booking form, you will receive an email confirmation with a photo of the meeting point. When you get to the right place, look for a tour guide with a big umbrella – we have green umbrellas for English tours and purple umbrellas for Spanish tours.
Yes, Prague is an extremely popular city and the number of spots on each tour is limited. Reservation helps us keep our groups smaller, which improves the quality of the experience.
Diego Parra
September 7, 2022.
Chris is very knowledgeable and funny. Did a great and thorough job!
Jacqueline Hofer
September 4, 2022.
Gute Tour! Danke viel mal!
Pascale Bouvard
September 4, 2022.
Nice tour with interesting storys and very good recommendations for food, souvenirs etc. We liked our tourguide Chris a lot. Thank you!
Akash Arora
September 3, 2022.
Very informative. I'll definitely recommend it.
Miranda Twiss
September 2, 2022.
Chris was a great tour guide and this was the perfect intro to Prague. He was entertaining and covered a wide range of topics (history, architecture, food, etc) and included one of the best list of recommendations I've seen (divided into categories like inexpensive food, expensive but worth it, vegetarian, drinks, souvenirs, etc and with all locations mapped on a Google code). Overall I was very happy!
Tirzah Reed
September 2, 2022.
Chris was a STUNNING guide. The stories he told, personable demeanor, quick thinking in crazy crowded streets (guiding a group of ~40!!!) Was unmatched. He was genuinely funny, and worth every second we spent and dollar we tipped. Come prepared to tip well—not because he asks for it, but because he's just that good.
Max Klapow
September 2, 2022.
Chris was absolutely outstanding. 10/10 would recommend, he was phenomenal!
Phineas Jayden Kierdorf
September 2, 2022.
Super cool guide. Very friendly and helpful. A lot of interesting history facts!!!
Maurizio C
September 2, 2022.
Chris is super!!! Very funny and competent! He loves the city of Prague and he knows lot of stories, legends and good-luck rituals. You can learn with him the different styles of art of Prague: gothic,rococò,renaissance,baroque,Roman. And in the end of tour,you're able to distinguish them. I will do another walking tour with him! He's able to drag you in immersive experience.
Sinead McVeigh
September 2, 2022.
Amanda made this for us. Really informative with a personal touch on her own history. She was quirky and humorous throughout. Good job.
Important: We have GREEN umbrellas for English tours and PURPLE umbrellas for Spanish tours!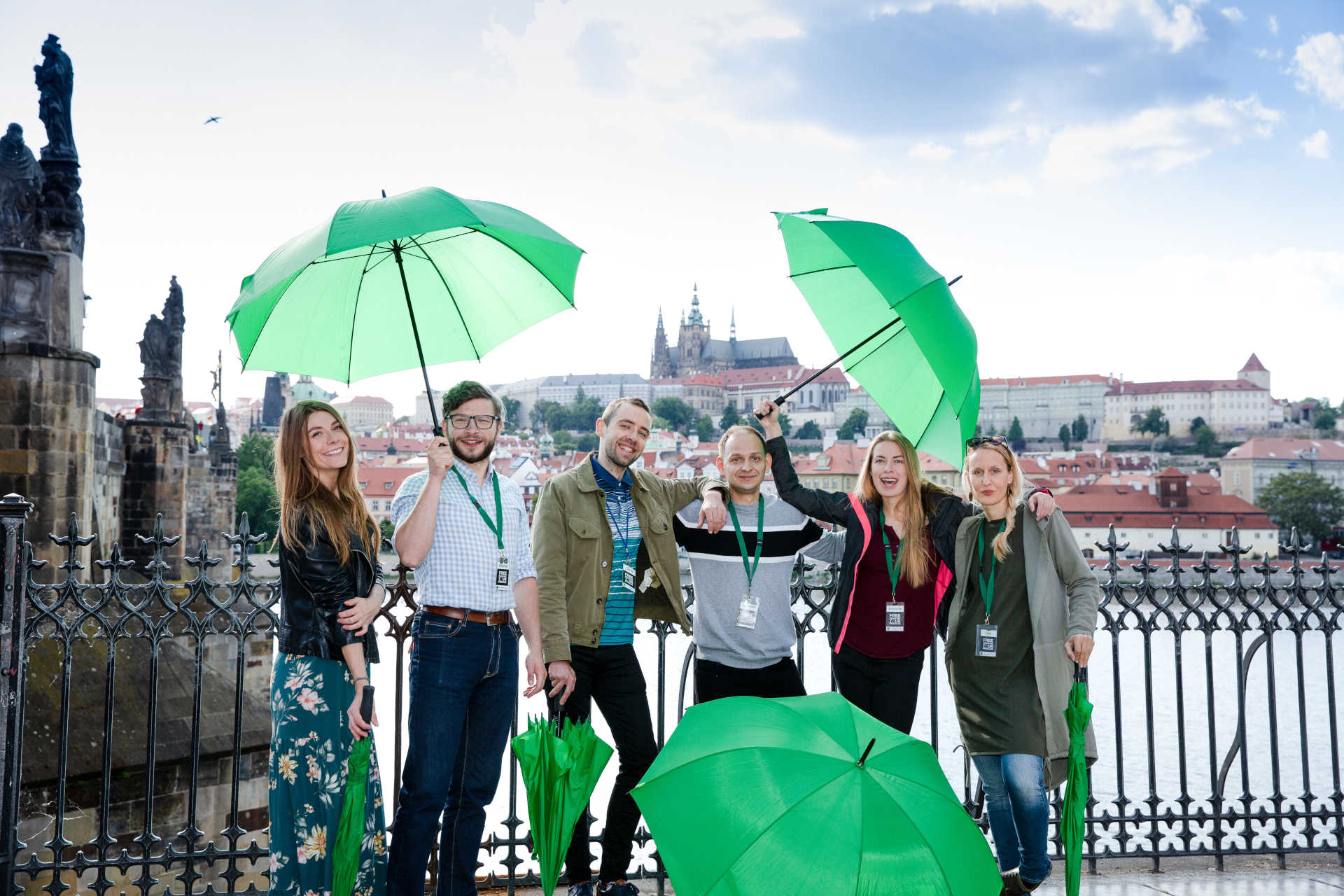 In collaboration with: